Oh no no, it's raining again! Honestly speaking, I don't quite like wet weather. You know, it usually takes about 15 minutes from my place to PJ and yesterday morning I couldn't believe that I actually took 1.5 hours to reach my client's place! All da cars were slowly crawling to their destination like a tortoise, trust me, da jam was horrible! Off work at 530pm, happily drove home, half way through, found out from da radio that there was an accident somewhere near TTDI and cause of that, I got stuck again for another 1.5 hours! :| By da time I reached home, I was half dead. Slept through da night like a pig and this morning woke up to find my body aching here and there and worst of all, it was raining again, heavily! Thank god that I don't need to be at my client's place today, I can really imagine how great da traffic flow would be :|
I'd been eyeing this US-founded charbroiled burger franchise for quite some time when da shop was still in renovation progress and when I found out that

Carl's Jr Burger

finally opened its door 2 weeks ago on da ground floor of

Old Wing 1 Utama

, I made no delay and gave them a try last Friday.
We stepped in, we were warmly greeted and welcomed by their Staffs. We found out that there are many kinds of Burgers to choose from and when one of their staffs trying to be nice and asked us which type of Burgers we would love to try, darling acted stupidly and asked him.....
Darling: Oooo... not bad, Bacon! So that's Chicken Bacon yeah?
Carl's Staff No.1: Oh, ermmmm..... Pork Bacon!
Me & Darling: What?!!!!! O_o O_o O_o
Another Staff over heard and saw our O_o reaction, he quickly came over and said.....
Carl's Staff No.2: Oh no, no! It's Chicken Bacon. Sorry bout that.....
Me & Darling: Lol :D :D :D :D
I thought that is a very sensitive issue? Yes? Looks like their staff aren't well trained to answer customers' questions! We just couldn't believe that a simple question like this was answered wrongly :p
Darling had Portobello Mushroom Burger

(RM 24)

. One usual Beef Burger with sliced Portobello Mushroom, Onion, Tomato, Lettuce and Cheese.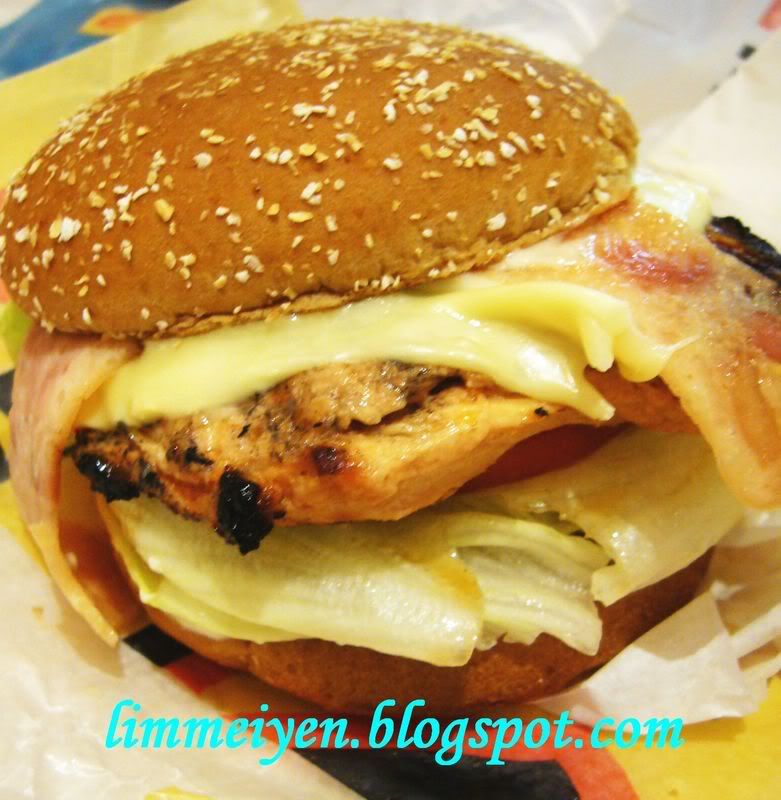 I had da
Chicken Club Sandwich

(RM 23)
. A Sandwich with cooked Chicken Breast and Bacon, accompanied with Cheese, Tomato and Lettuce.
I thought this long awaited Burgers, not worthy at all and darling gave a thumb down for his Burger as he said, "A Burger is still a Burger!" True enough, it's way too expensive! :|
To da rest of you who wish to try this Burger-chain, he suggested, "Maybe you should try Burger King da day before you give Carl's Jr a visit and tell me what you think." ;)

Other review:-