Bad day, bad day! I discovered that my Hewlett Packard All In One Office Jet which I bought last year March was not working well yesterday. It happened when there was an incoming fax and out of a sudden, the display went off and obviously, the fax didn't manage to go through. I off and on it back, found out that da on/off button lights kept blinking with da error message, "OXFAOF8005".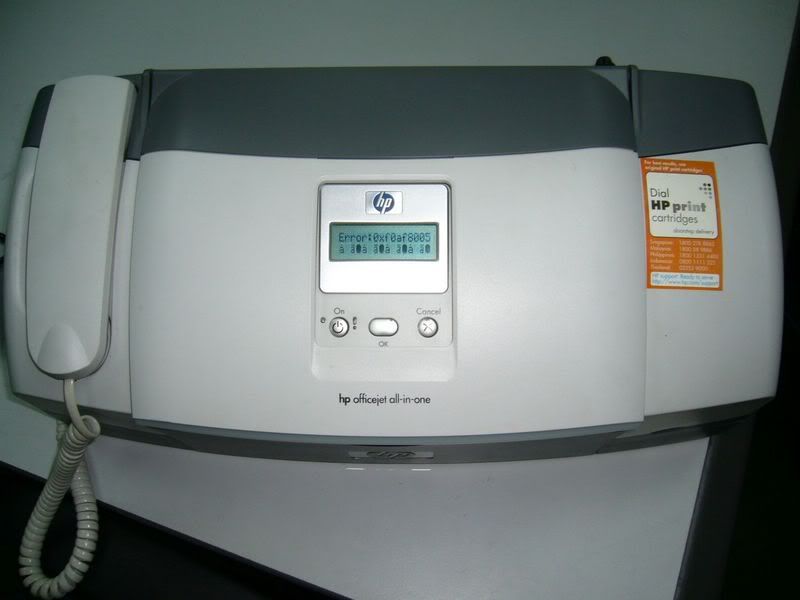 I touched no more and this morning, I immediately sent my OfficeJet to HP Service Center. To my surprised, their Help Desk told me that it couldn't be fixed! O_o
Oh my gosh, da technician did nothing much. On da button, off da button and sent the unit to da Help Desk and da end.
HelpDesk: I am sorry. We are going to exchange one working unit for you.
Me: Huh? You mean it couldn't be repaired?
HelpDesk: Yes! We will change one working unit for you in 3 working days time.
Me: Huh? No, no! Why the machine couldn't be fixed?
HelpDesk: Wait, let me check the system.
Me: Okay.
HelpDesk: Oh, you bought this unit more than 1 year. It was March, 2006.
Me: So?
HelpDesk: The warranty is over. I need to charge you RM 250+ to replace this unit.
Me: What?!!!! No, no! A working unit is not a brand new one, am I right?
HelpDesk: Yes, not a new one. We give you 3 months warranty.
Me: No, no! I want my OfficeJet to be fixed!
HelpDesk: No, we can't fix it. It's beyond our control and this model has been obsolete.
Me: 1.5 years and you tell me it's obsolete?!
HelpDesk: Yes!
Me: So, what's the problem that cause the damage?
HelpDesk: Ermm... I think maybe.... lightning strike. Perhaps, power supply problem.
Me: O_o, no... can't be. It wasn't raining when da fax was coming in!
HelpDesk: I don't know, is really beyond our control.
Me: No way, HP is a multinational company. How can it not be fixed?!!!!!
HelpDesk: Even if we fix it, it will costs you more than RM 250+ what.
Me: Well, at least you should have tell me earlier!
HelpDesk: Okay, another option. You trade in this model, we give you 30% off the new model.
Me: No, I used less than 10 times in this 1.5 years and now it's spoilt.
HelpDesk: I can't do anything, warranty is over.
Me: Change a working unit for me at no costs.
HelpDesk: I can't do that.
Me: I am going to write a complain letter to your HQ.
HelpDesk: Can, go ahead. Call this number....
Me: Yes, I definitely would. HP? So unreliable? Worst of all, can't be fixed?!
Right now, am really pissed. If I've known earlier that this unit couldn't be repaired and that it's so unreliable, I would not buy it at all. I swear that I am not going to buy anymore Hewlett Packards' Printers, Fax and Scanners. They aren't reliable and worst of all, when there's a problem occurs, the technician couldn't fix it! I learn my lesson well and thanks HP for telling me that your products sucks! Calling yourself a multinational company? Hell no! Your people can't even fix a small machine like this. I don't trust your products anymore!