Remember I'd earlier mentioned that we were going to da
Malaysia International Fireworks Competition (MIFC)
? Here's an update of it....
At 730pm, we gathered at Petronas Station (somewhere after Tractors Malaysia). When darling and I reached, I saw Yeap's car. Immediately we stopped and oh, Wee Kiat was inside da car too. Okay, they car-pooled. Chit-chat awhile and minutes later, Prasad came with his girlfriend and oh, Prasad car-pooled with Lye Mun, Yew Choong and Poh. No, we couldn't start our journey yet as we were still waiting for Ivy and her hubby, Eddie. "Kepoh" here and there for awhile, yippee... Ivy and Eddie reached. We quickly rushed in to our car and drove off.
I'd never been to Putrajaya but darling did. Still, we need to follow closely Yeap's car as we weren't familiar with that area. Throughout da journey, I asked darling lotsa questions. Mostly, "Where?, Why? and How Come?". Hehehehehe.... I was really curious okay. Anyways, about 20 minutes from da Petronas Station, we finally reached Putrajaya. This place is cool, so huge, like a town! My oh my, there are many man-made bridges and I didn't know which was which and again, I asked silly questions to my darling and my buddies. I believe I was da only one there not been to Putrajaya so...... they got to bear with me, lol.
Prasad had earlier reserved a table at Kelab Tasik Putrajaya and we had dinner there. Food review later okay? Upon reaching, all of us toured around da area to enjoy da beautiful night view and.....
Enough of pictures and time for dinner. Before I forget, da dinner was held in conjunction with my buddies' birthday. Happy Birthday to Mun, Kiat and Poh! Believe it or not, their birth dates, so closed.... bout 24 hours gap towards each other, that's a fate! After dinner, Yeap again had a surprised for us. He brought something really special.... da video clips of our college days that he had done back in Year 1999!!!!!!!!! Oh my god, I was so touched..... and I shed my tears. I really missed those days so much! :(
After da video clips session, cake cutting ceremony for da August babies and immediately, we left da place. Darling and I decided not to drive over there since Yeap's car still could fit us in despite having 3 guys inside :p So, we left our car at Kelab Tasik Putrajaya and Yeap was rushing us to get into his car asap as we believe we were already late. You won't believe it, we were still struggling driving all da way to Putrajaya Convention Centre (PCC) at 930pm! Oh boy, I knew we wouldn't be able to make it since da fireworks supposed to start at 10pm!!!!!!! Yeap was driving really fast and furious. It was really scary cause I was sitting on darling's lap and I could feel da tension moment all of us had at that time. Da minute we reached da bridge to PCC, hell no.... it was so jammed! Cars were everywhere parking at da road side to wait for da fireworks moment. We were shouting inside da car, "Give way, give way! We paid our tickets and not you!" Anyhow, we finally reached to a junction with da sign, "MIFC ---->" but... but da traffic police directed us to da left instead of right where we supposed to drive in to PCC!!!!! Shit.... Yeap gave no mercy and quickly turned left, parked his car near da bushes, right in front of Prasad's car. Oh me gosh, everyone ran towards PCC which we thought it was near. Damn.... we were all in rush, really ran like a mad cow. Da gals, including me, had a hard time catching up as we were all wearing supa darn high heels. Damn...... and worst of all, I was wearing skirt! :| Anyways, that didn't stopped us from running and we continued to run......
Half way through, da Fireworks began........ we were stucked and we were not allowed to go in as we were late! Da gate was closed and da authority said, "Da gate closed at 9pm! You can't go in now!" Very good, da tickets burned and yet we ran like there's no tomorrow! :( No choice, we watched from below rather than above. We were supposed to watch from above in PCC but... what to do... we were late! :( Very sad......
Anyways, do have a look on da Fireworks.... by Malaysia!
Look at us, we got to watch da fireworks with others from below when we actually paid for da tickets, how disappointed we were :(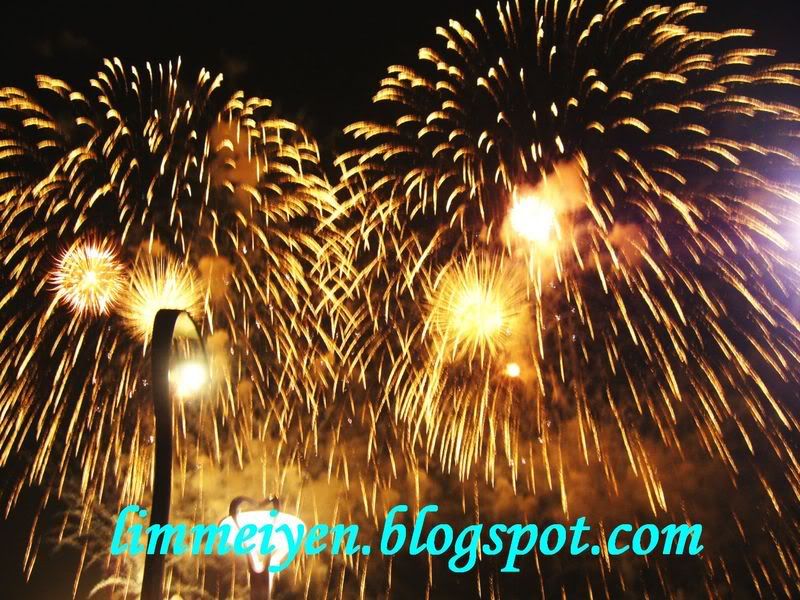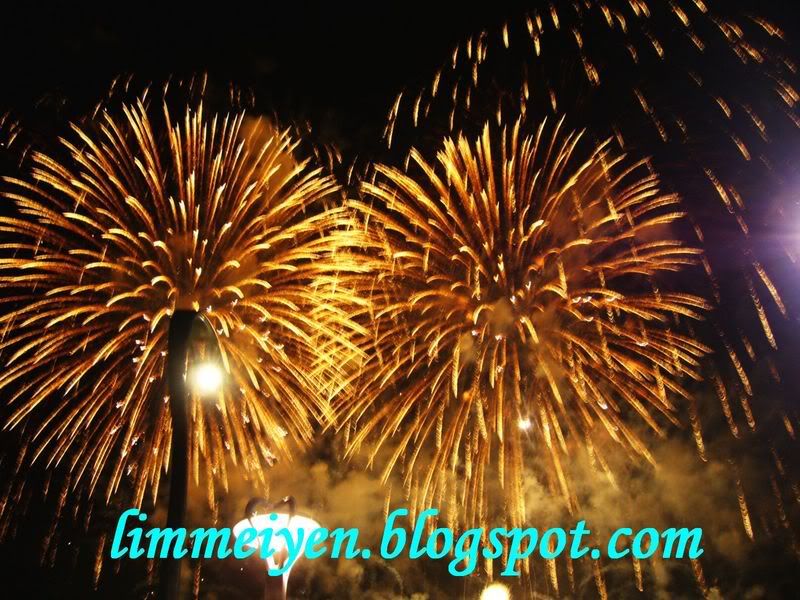 Well, it lasted 20 minutes and to be truthful, da fireworks by Malaysia team was rather normal. We could mostly seen some of them during Chinese New Year, no special effects though. Towards da end, we were already sweating like a pig and we got to walk back to our car disappointedly. Didn't know that we actually went a quick marathon for about 2-3kms earlier when we were rushing to PCC and walking back slowly was a disaster as our feet were in pain. We knew that driving out from that area would be jam hence we waited da PCC gate to open and we drove inside to find that da Fun Fair was still operating. My buddies wanted to go in to have some fun so.... we followed although I was already half dead. However bad, we managed to drive up to PCC at 1am. We told da securities that we didn't manage to come in earlier, showed them our original tickets and we beg that we just wanted to have a look inside. Surprisingly, they allowed us to go in! Oh wow, view from PCC was great! Imagine we had da chance to watch da fireworks there earlier..... sigh!!!!!