We were supposed to drop by The Gardens yesterday night for dinner but how unfortunately that we couldn't make it cause I had to work late and worst of all, da journey from my client's place back to my home-sweet-home was superbly jam, speechless! :(
I felt really hungry due to da fact that by da time I reached home, it was already 8pm+. I thought it was a good time for me to pig out since I felt that I need to eat a lot, lol! I remember
Teckiee
and
Citygal
blogged over a place at
Centrepoint, Bandar Utama
and they did mention that da Ribs at this place, pretty good. Without any hesitation, I suggested darling to drive to Centrepoint and look for da Restaurant. Apparently, I was unable to recall what's da name of da Restaurant but I do remember that Citygal told me it's a Filipino cuisine so it wasn't hard to spot this simple yet bright looking eatery which is located right beside Starbucks Coffee.
Da moment I saw this,

Golden Mushroom Bacon Maki

in da menu, I ordered it right away. I mean, Enoki Mushroom has been my favourite, always.... so it's really irresistible! Priced at

RM 7.90

only, there are

6 pieces

of them. Da Enoki Mushrooms were stir-fried and then being wrapped in da superbly juicy and tasty Pork Bacon. My oh my, it's helluva good and I couldn't believe that I actually walloped 3 pieces and still felt no enough! :p
Darling asked for recommendation and we were told that

Pork Binagoongan

is da famous item here. Priced at

RM 11.90

, it's actually a Pork Belly dish served with abundance of Tomatoes and da yummy-licious gravy is actually comes from stir-fried Shrimp Paste. Now, you don't eat this dish by itself, it's best to have it with Steamed Rice and I couldn't agree more with darling, da Pork Belly is finger licking good, really!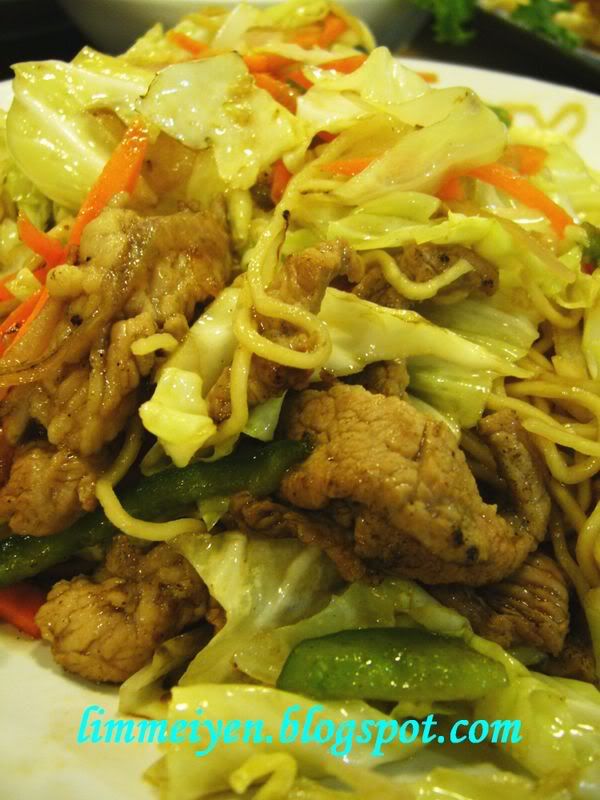 Unbelievably, they actually serve slurpy Noodles here! There are two selections, your choice of thick (Udon) or thin (Ramen) Noodles with soup or without soup, it's up to you. I chose to have da

Pancit Noodles

; Stir-fried Ramen with Minced Pork and generous amount of Vegetables. Whoaaa.... I tell ya, I love this plate of Ramen sooo sooooooooo much that I couldn't stop raving about it and believe it or not, it's only

RM 5.90

. So much of Noodles, so much of Vegetables... oh my god, it's really....... really affordable!
As I mentioned earlier, I was superbly hungry and whatever we had were no enough although everything came in a great portion. Darling was of course very shocked, I mean it's very seldom that I could eat that much and it only happens once in a blue moon so he happily ordered something from da pit and it was this Little Piggy am talking about :) We had it half a size and it should be 4 slabs of

Baby Ribs

as stated in da menu but not too sure why that we were served 5 slabs instead, good for us! :D Da Ribs were nevertheless meaty and tender, bathed in a Classic sauce (it's mentioned in da menu that it's "Mat Salleh" style), costs about

RM 25.90

only! Also, it's served along with side dishes like Salad/Coleslaw and Mashed Potatoes, very home-made kind, absolutely tasty!
I must say that we were very satisfied with this amazingly porky meal here in Cagayan's. Friendly people around here, good food, free parking..... and oh, I almost forget to mention that if you order their
Green Tea drinks

(RM 3.90)
, be it Hot or Cold, it's all bottomless. Seriously, who could ask for more? Although I was kinda upset that I didn't manage to visit The Gardens but hey, I had a good meal last night and it's just fantastic! I will definitely come back for more and trust me, you really have to try this place and you will get to know why Cagayan's is so highly recommended :)
Ahhh.... I feel really oink oink now...... plus da rainy weather, so nice to be on da bed right now! ;)
Cagayan's
G107-108 Centrepoint
Bandar Utama
47800 Petaling Jaya
Tel: 03-77241022
Other reviews:-