I had been wanting to visit

The Gardens

ever since it opened but we were just too busy with works and with our own family members during da past few weeks. Finally, I had da chance to drop by this new mall on Monday. Parking was not limited, there were many of them and mostly not occupied. I was quite excited since it was my first time and knowing that Isetan has a large capacity here makes me even more curious to find out how's da place like. Oh well, da seconds we stepped in, we found out that da escalators and rest rooms not fully available yet. Darn, we had to walk up and only two rest rooms were opened to da public, pathetic!
It was lunch time when we reached and darling asked me what I wanna eat. I told him Japanese food and it has to be

Yuzu Japanese Restaurant

. We went to search for da directory as we were unsure which floor Yuzu is located. Amazing, da directory is cool! It's a touch screen kiosk and there's an search engine too, it makes everything so easy peasy.... loved it! :D
Found out from The Star paper that they are currently having special promotion, 25% off for all Sashimi orders and 10% discount for ala carte items. We ordered da

Salmon Sashimi

which is served on a bucket of ice and for da price of

RM 30

, there are 5 pieces of very fresh and thick in size Salmon. Each piece is cut to perfection and we loved da texture of it, it's really mouthwateringly meltful. Presentation wise, needless to say, absolutely beautiful!
Next up, we had da

King Prawn Roll

. Priced at

RM 28

, da King Prawn is lightly fried, rolled together with da Jap Cucumber, topped with fresh Salmon and Avocado. Quite similar to da
Dragon Roll at Rakuzen
, da only difference is that, there isn't any Salmon topping so since they are at da same price, I would say that it's value for money to have this King Prawn Roll here in Yuzu :)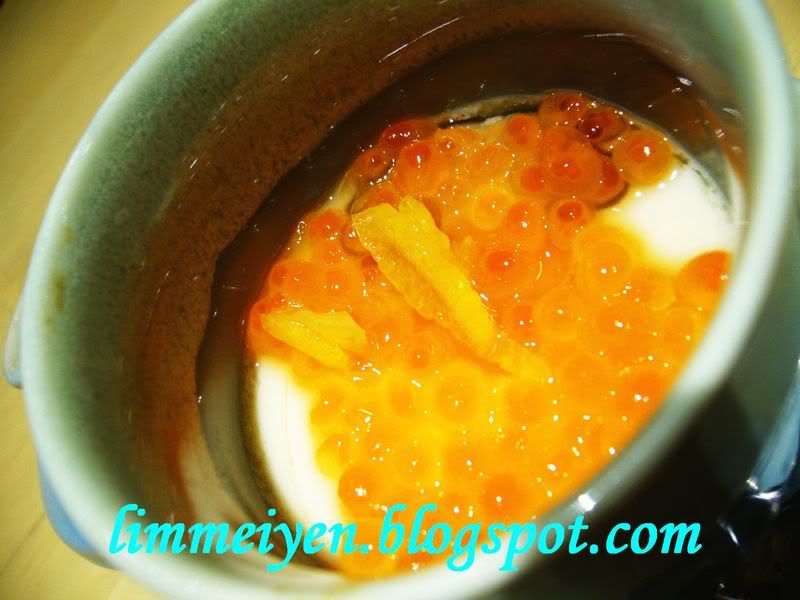 When darling saw this special Chawanmushi in da menu, he couldn't help but to order it right away. Very special indeed, it's an

Ikura Chawanmushi

! Priced at

RM 18

, we find it worth da money. Da Egg Custard, perfectly steamed, very smooth and da Salmon Roe tastes really "raw", quite a good combination since da Egg Custard tastes plain while da Salmon Roe were at da salty side.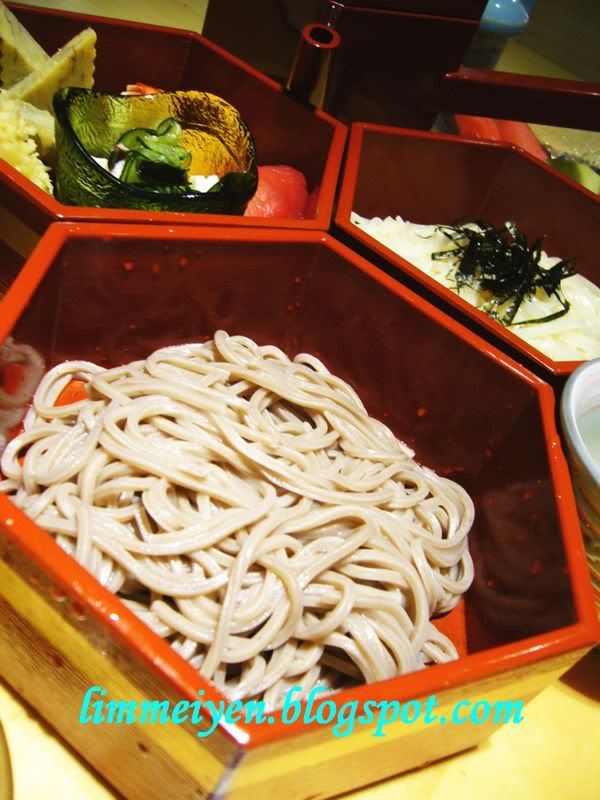 Feeling quite hungry still, we decided to order da

Soba Gozen

. Priced at

RM 38

, da set comes with a combination of Cold Soba and Cold Inaniwa Udon, served with Tempura, Sushi, some pickles and a pot of Soup. Huge portion and I suggest that if you really wanna order this set, make sure you share with someone else. I was busy trying da pickles when darling started to say....
Darling: Something is not right....
Me: What?
Darling: Something is missing!
Me: Errr......
Darling: I need to see da menu....
Me: What's missing?
Darling: Da noodles....... it's bland and tasteless!
Me: Errrr.... maybe da sauce is in da pot :p
Darling: No, that's soup! Not sauce...
Me: Maybe you have to eat da Noodles with pickles :D
Darling: Of course not! I need to ask them why da Soba sauce is not served!
Darling: I believe that this set comes with soba sauce? Yes?
Waitress No.1: Ermmm... let me check.
Darling: Please, thank you!
Waitress No.2: What's da matter, sir?
Darling: There's no soba sauce, da set comes with da sauce right?!!!!!
Waitress No.2: Yes, yes!
We waited more than 5 minutes, still no respond, no soba sauce!

Me: Bad service, why so slow, why so long for them to serve us da soba sauce?!!!!
Darling started to get piss and decided to ask someone with "tie" lol...
Darling: Excuse me, this gozen set comes with soba sauce, am i right?
Someone with "tie": Oh yes! Let me check..
Then, out of sudden, there was another person with "tie" came and checked with Waitress No.2, looked around and seriously found out that we were not served with soba sauce!
Oh my god, it's crazy! They acted like they seriously know nothing and served da main set without da main sauce and still didn't know what was going on! Goodness..... Okay, back to da set, da noodles taste delicious but da sides, oh.. so SALTY!!!!!!! I couldn't take it seriously and I do not want to get high blood pressure because of that :)
Lastly, there was a free dessert for us cause we ordered da Salmon Sashimi and it was a

Matcha Tiramisu

. Quite a tiny piece though and since it's free, no complains :)
In summary, food was good, acceptable but we were quite annoyed that there were too many small flies flying around, everywhere! It makes me feel that this place is dirty, not hygiene and some of them just landed to our soya sauce and died inside, poor thing. They better to something about it. Infact, I have a video with me capturing few flies flying around on our table but I feel no good to post it out here as I believe it will for sure gonna spoil their image. Since they are still new, chances should be given to them. Service was really slow and not attentive, we got to like ask around and waited more than 5 minutes just to have da soba sauce, sad case! and... they better do something over da FLIES that flying around freely :|
Other review:-