Remember I mentioned that I drove my family up to Genting Highlands on da 1st day of Raya? That evening itself, we came back and decided to have dinner at

Bandar Menjalara

. During da journey back home, I suggested to go for Steamboat dinner but dad said he wasn't interested and he asked if we wanna eat "Sang Har Meen". I was like, "WANTTTTT!!!!!" Seconds later, mom said, "NO, you want your toe to be swollen again huh? You know your toe is not fully recovered." Oh poor thing, I felt so sad..... :( Once reached Bandar Menjalara, whoaaaaa..... so many cars, so many people and almost all da restaurants were fully packed with patrons, even not da so famous one, lol.
Since we were feeling really hungry, we decided to look for a restaurant with less people and we found one! One and only one

Teow Chew Meng Restaurant

. Dad was quite reluctant to walk in cause he thinks that food here must be bad as there were only 2 tables occupied out of more than 10 tables! Mom said, "Nevermind, let's give it a try!" We took quite some time to explore da menu although they served quite limited dishes and for mains, they only serve Mee Sua Tow, Porridge, Noodles Soup and Tom Yam Noodles. No worries, not da plain one. You can have it either with Seafood, Sharkfin, Fish Fillet, Pomfret, Prawns or Abalone it's all up to you to decide but pay different prices :)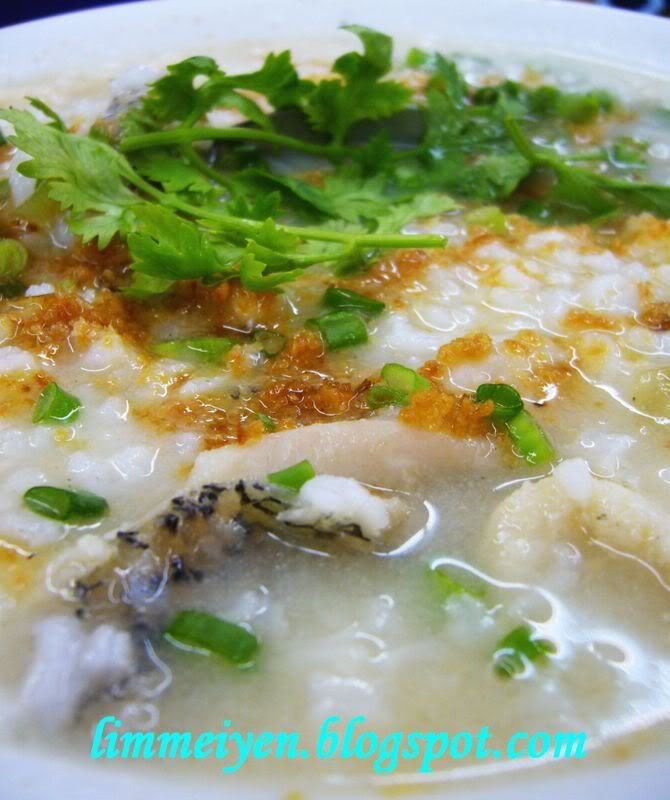 Dad wanted

Porridge

and I asked them to serve da Porridge with Pomfret but disappointedly, they were to no availability and da only choice was to have it with

Fish Fillet

. Since it's a Snapper, dad gave green light and minutes later, da Porridge was served. I tried a spoonful of it and find da Porridge tasty and soupy while da grains were extremely soft. Good is good but it seems to be quite expensive,

RM 15 per person

! O_o
When mom found out that they serve

Tom Yam Noodles

, she immediately got hooked to it. Mom, sis and I shared da Tom Yam Noodles. We opt for "Bee Hoon" and it was served piping hot in a huge metal pot. There were plenty of ingredients hidden down da pot, Fish Fillet, Beancurd, Prawns, Squids, Cuttlefish, Fishball and etc. Soup was fantastic, very flavourful and not too spicy, I liked it but I tell ya, it's no cheap.......

RM 30 for 3 persons

and da portion was really small!!!!!! O_o
We also ordered one side dish, a

Steamed Lettuce

. Absolutely nice presentation with big dried Prawns topping but my oh my, it's

RM 10 per plate

! I tell ya, it's really not worthy at all..... I could finish it all by myself okay. So, just imagine how small plate da Steamed Lettuce was yah.....
Guess what? We paid more than RM 50+ for da above items and we were not full. Seriously, da food here is tasty but why they serve such a small portion considering that we had to pay so much????!!!! That's really insane and we were actually quite shocked that we ended up going for a second round dinner at a nearby Mamak stall. Oh my god, that never happened to us before!!!!! We were not upset or angry, we just had to laugh and couldn't stop laughing cause ALL OF US were still hungry after paying so much for our meal. Sigh....... now I know why this place was empty on that night that other restaurants were all fully occupied when they were not! Hahaha.. really don't know what to say but my parents already banned this place. Maybe I shall bring my fiance to try and let's see what's his point of view ;)
Other reviews:-