There has been quite alot of hype about Donuts ever since
Big Apple Donuts
opened its door at The Curve during da mid-year and not long after,

J.Co Donuts

made its first appearance at

Pavillion

. I am not much of a Donut fan but since I have sweet tooth, darling was kind enough to purposely bring me down town to have a taste out of it. After all, it's so famous and we really wanted to know how special their Donuts are.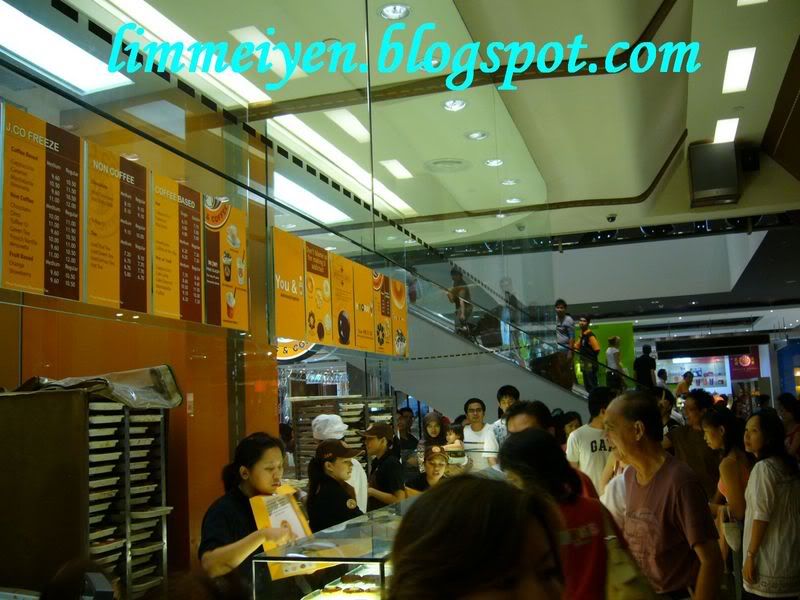 We dropped by J.Co right after our brunch at
Eest, The Westin Hotel
and not surprised to find out that da whole place was jam packed with people. All kinds of people were actually queuing up, be it old or young, we were all crazily joined in da fun just to get da Donuts. I think we actually waited ( da queue) approximately 30 minutes for our turn to choose da Donuts and darling kept mumble to me that, "it's insane!" lol...
While waiting for our turn, I saw a banner stating that they were having a special promotion, pay RM 33.40 for 2 dozens of Donuts but we didn't go for that cause we knew that we definitely wouldn't be able to finish them. Ended up, we bought 1 and 1/2 dozens; 1 dozen separated into half, 6 pcs for me to bring home and another 6 pcs for darling's family while another 1/2 dozen was a gift to my childhood friends since we were going there for dinner that night itself.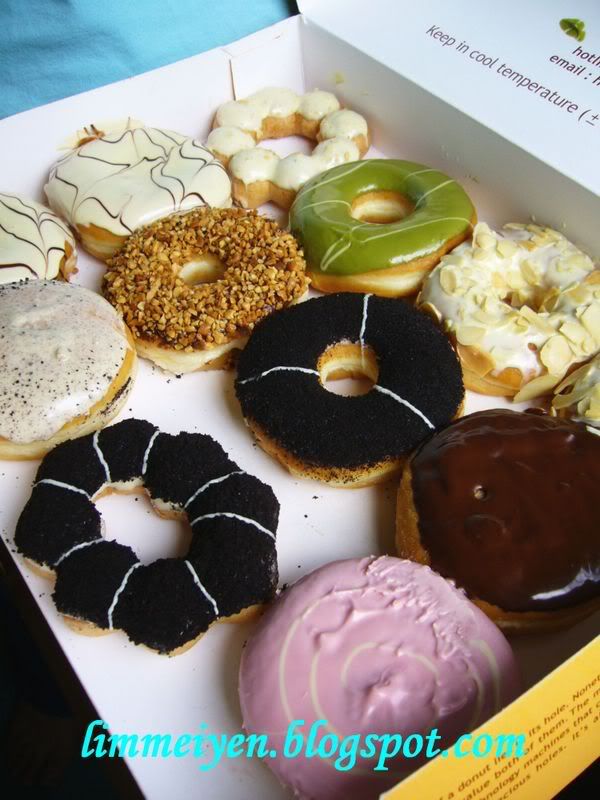 I couldn't remember much da names of this sweet little Donuts but for sure, I didn't like da J Crown type, da one which looks like there's a flower with a big hole in da middle. I don't know why it's so freaking hard and worst of all, there was one pc we had which was half cooked! If you like da soft types of Donuts, please do not get da J Crown type, it's really no nice :( Anyways, of all that we tried, I think da best would be da one with Peanut Bitter filling, I think it's called "Why Nut?" as stated by
Citygal
but somehow or rather, "Why Nut" seems to be different over here at
Masak-masak
. So, I really don't know which is da correct one, maybe you can enlighten me? My mom thinks that Big Apple Donuts taste better as they are softer while my sista seemed to have no comments as she thinks that both of them taste da same. As for darling, he seems to enjoy J.Co Donuts more, maybe because they are much creamier. If I were to really compare J.Co and Big Apple Donuts, my vote goes to Big Apple cause I find J.Co Donuts way too sweet for my liking and da half-cooked Donut that we had really such a turn off! :|
Other reviews:-