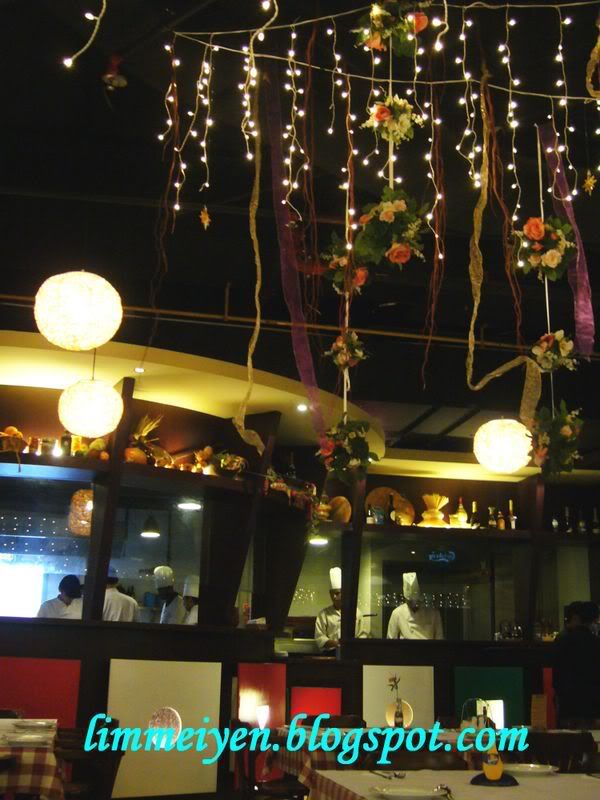 Two days ago, I raved over Sushi Zanmai for its good and affordable food but not for today, it's totally da opposite side. We were at

Mid Valley

one Saturday afternoon to watch Beowulf. That happened bout 2 weeks ago I think and since we were craving for Italian food, we decided to hop by

Piccolo Mondo

for lunch. You must be wondering why Piccolo Mondo since there are many worth-trying Cafes and Restaurants at Mid Valley, furthermore we could just walk over to The Gardens and scout for a better eatery but why, why we ended up in Piccolo Mondo? Simple reasons; we were about 1 hour away to catch our show (Beowulf is not a cool movie, very disappointed!), we were craving for Italian food and Piccolo Mondo is da nearest spot. Located right beside Madam Kwan's, da place was barely empty when we arrived, there was only one table occupied out of many tables. We were shocked cause it was lunch time and when other eateries were jam-packed with diners, just not Piccolo Mondo. Anyways, we thought no harm to try their food since we had never.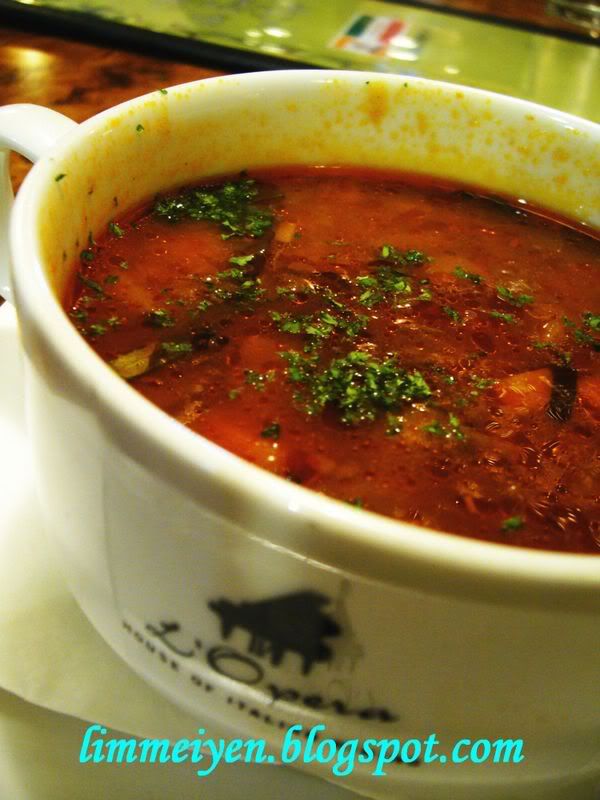 Both of us wanted something hot to warm up our tummy but we didn't want creamy soup hence we went for a bowl of

Minestrone

. Priced at

RM 14

, well..... bad, supa dupa oily! You can actually see from da above picture, there was one thick layer of oil, what? as topping? It's really bad. I thought Minestrone soup supposed to have varieties of beans and veges but turned out more like a Tomato Soup :(
For mains, we shared a plate of

Paella

. Priced at

RM 49

, it's written in da menu that da portion is for two persons and when it was served to us, my eyes almost popped out! Such a small serving okay, I could easily finish da whole plate of Rice! Though da Paella tastes good but da texture of da Saffron Rice were rather hard and not smooth and paying RM 49 for such a small portion isn't worthy at all! Darn, we felt so cheated! :(
We got to pay

RM 75+

(including tax) for da above items and yet we were not full!!!! It was horrible, we left Piccolo Mondo disappointedly and because we were still feeling hungry, we got to fork out another RM10 at Mcdonalds to feed our tummy! Such an expensive lunch.... and da answer is no, no, no, no! We will never ever step in to Piccolo Mondo again! Boo hoo....