We hang out at

1 Utama

often and when we found out that there's new eatery inside this mall, we got really excited. Few weeks ago while we were having dinner in KTZ, darling realised that there's another new restaurant which seems like just opened not long ago right opposite where we seated. We were very sure that this eatery is new cause we remember that this place used to be rented by World of FengShui. So, after out dinner in KTZ, we walked over and peeked inside. Much to our amazement and delight, it's a Steamboat restaurant with da name,

Plus One Shabu Shabu

. We made no delay and hop over few days later.
Plus One Shabu Shabu has a different concept as compare with da existing Steamboat restaurants like Johnny's and Coca over here at 1 Utama. Both of these existing Steamboat restaurants are pork-free (halal) and uses one large hot pot to serve diners while in Plus One Shabu Shabu is rather different, you would be given a personal pot to enjoy da Steamboat so it's really hygiene. Besides that, for those of you who are already bored with da normal kind of Steamboat Soup, you can now choose not only da Plain Soup and Tom Yam but they offer varieties of Soup based like Sichuan, Corriander & Preserved Egg, Chew Chow, Fish, Tomato and Beef & Tomato Soup.
It was Sunday afternoon when we were in Plus One Shabu Shabu and we were told that they serve set lunch. Priced at

RM 12.90++

for a normal

Mixed Set

, we find it quite affordable but we didn't order da Mixed Set as we paid extra RM 1,

RM 13.90++

for a

Mutton Set

and another

RM 13.90++

for a

Fish Set

. Over here, da set comes with free Appetizers and free flow of drinks like Ice Lemon Tea and Green Tea, all you need to do is to walk over to their respective corners to get da Appetizers and Drinks, really easy!
Let's check out da free of charge

Appetizers

;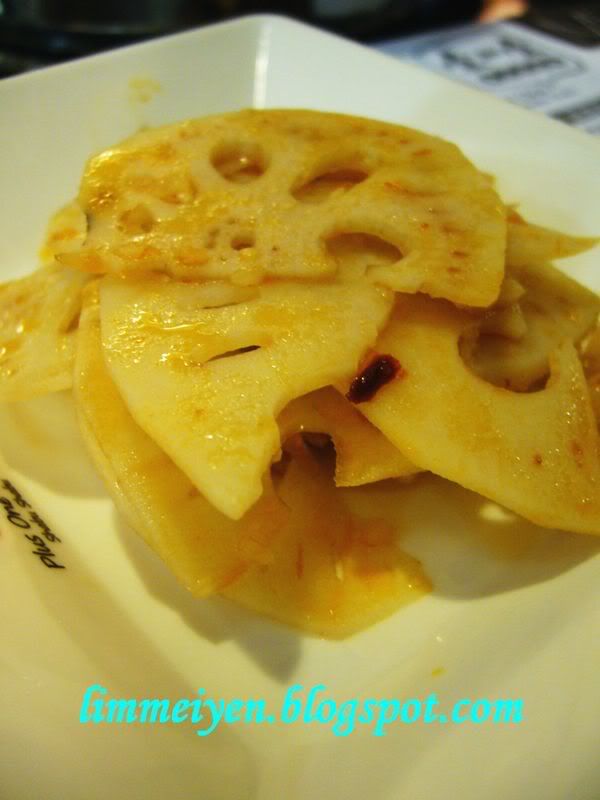 Sauteed Lotus Roots

, absolutely my favourite! It's spicy but not too hot so it's good! There was actually another Appetizer,

Fried Beancurd

which tastes equally good too but unfortunately I forgot to snap a picture out of it.
Darling opt for da

Chew Chow Soup

while I went for da

Fish Soup

. I tell ya.. da Fish Soup was really good, not of Fish Stock or whatsoever cause I found treasure inside my pot of Fish Soup! There were lotsa fried Fish meat just like those you get to taste in a bowl of fish head noodle soup.
This's da normal Mixed Set, served with Enoki Mushrooms, "Foo Chook", fresh Prawn, Squid, Fishball, Fish fillet, Vegetables, Pumpkin slice, Crabstick, "YeeMee" and etc.
With additional of RM 1, darling opt for da

Mutton set

. Da Mutton fillets were fresh and smelled good!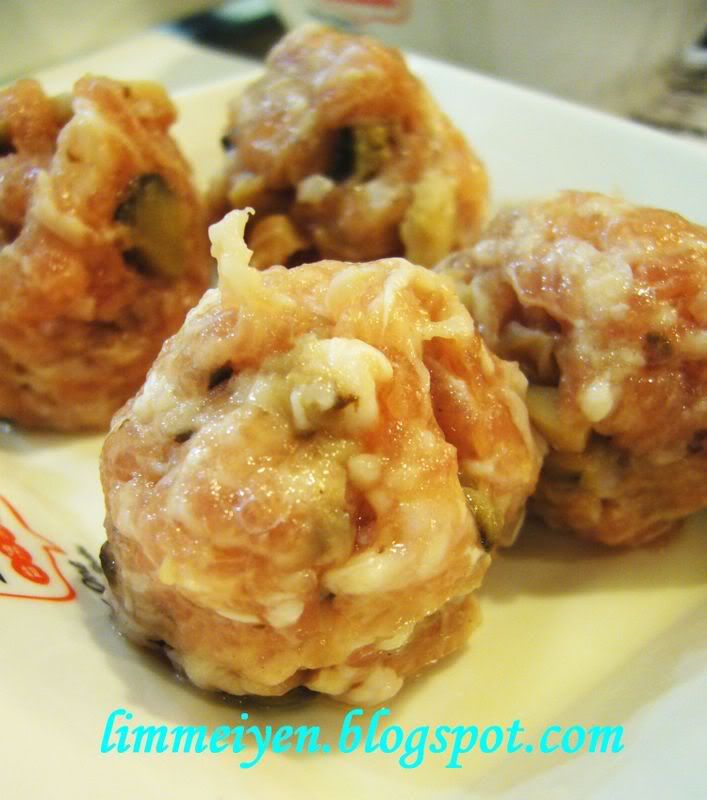 Don't be surprised, we were actually not that full and decided to look through da menu, ordered additional items like their homemade

Fish Ball with Mushroom

and.....
a normal homemade
Fish Ball
. For da priced of

RM 8++

for 8 pcs, it's quite a good deal I must say as they were freshly made and spongy!
Oh, I didn't know that they serve free Dessert too! It was

Konnyaku Jelly

, yummy! :D
Our total bill came less than

RM 50

and I would say that it's affordable. I have tried Johnny's and Coca Steamboat but we usually had to pay more than RM 100 for our Steamboat meal and in terms of varieties and hygiene wise, Plus One Shabu Shabu has got my vote! Do try this place and let me know what you think yah...
Other review:-