What do you know about
Nasi Lemak
? I am very sure every Malaysian definitely know what is Nasi Lemak and to those of you who are still unsure, especially foreigners, let me briefly explain this dish that's commonly sold over here in Malaysia. Nasi means Rice and Lemak means Fat but don't freak out, when Nasi and Lemak combines together, it becomes a name, a famous one in Malaysia. Traditionally, Nasi Lemak is categorized under Malay cuisine and surprisingly it's savoured by everyone in Malaysia, be it Chinese, Indians, Malays... everyone just love Nasi Lemak. A very common Nasi Lemak would have Rice steamed in Coconut Milk and usually served with Sambal, Peanuts, Boiled Eggs, Cucumbers and fried Anchovies.
Talk about Nasi Lemak, seriously, I don't even remember when was da last time I actually had one, not to mention a good one cause I hardly ate rice for many years. However, there's a turning point recently where I begin to love Rice. I thought since I am back to Rice diet, da first thing that came into my mind was Nasi Lemak and so, I asked darling if he knows any places that serve scrumptious Nasi Lemak and all he did was smile to me and from his smiling face, he seemed to have an answer. Da very next day after I asked that question..

Darling said, "Let's eat Nasi Lemak for brunch!"
Oh, that's very cool and I asked, "Where to?"
He answered me, "Kelana Jaya, my friend brought me here once."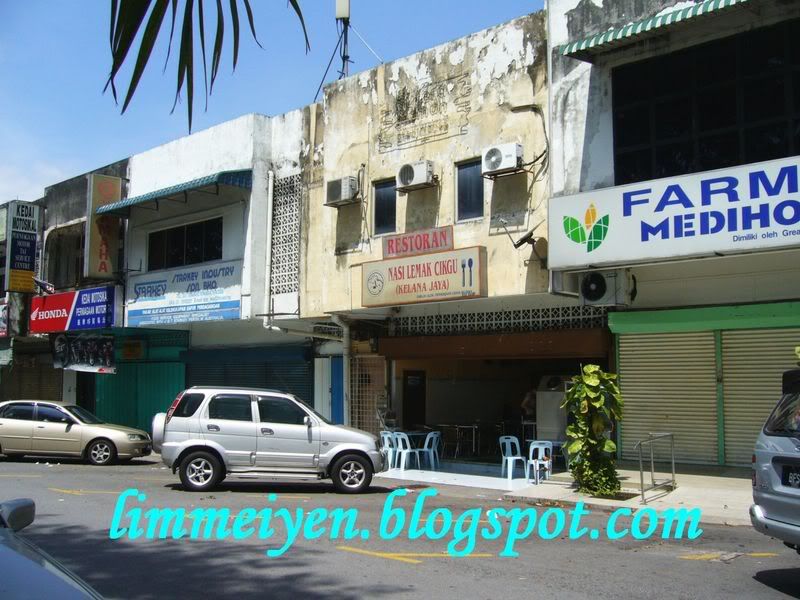 About 20 minutes drive to

Kelana Jaya

, da place that darling suggested was actually

Nasi Lemak Cikgu Restaurant

. Once reached, my memory suddenly flashed back, da name of this Restaurant sounds so familiar! Only then I remember that some bloggers did review this place and not only that, I remember I saw their article once somewhere in da newspaper too! Oh, I was joyful!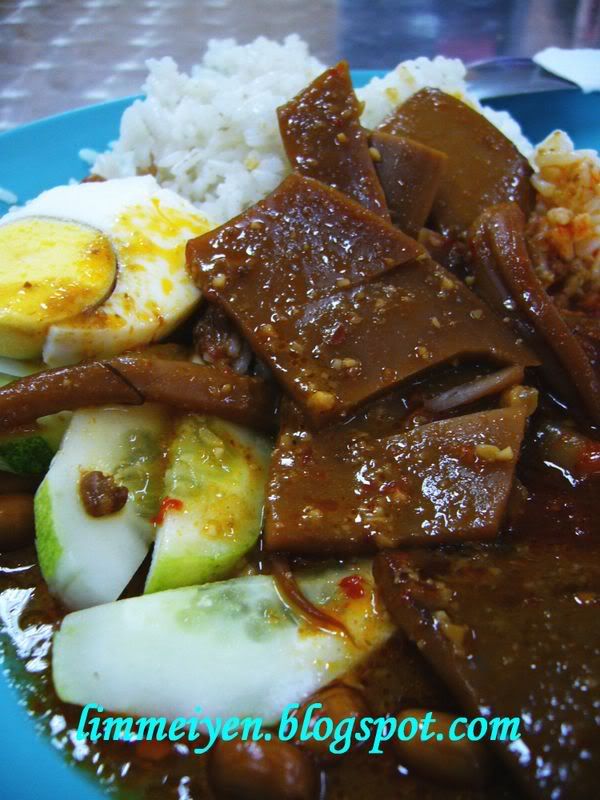 Over here at Nasi Lemak Cikgu, a very

plain Nasi Lemak

is priced at

RM 2

, so it's really affordable but we didn't go for that. We wanted something special hence darling ordered one plate of

Nasi Lemak with Ayam Goreng

for himself which is priced at

RM 6

per plate and one plate of Nasi Lemak with Sotong

(RM 4)

for me. Ooopppsss, not too cheap I thought especially da one with Ayam Goreng but, yes, there's a but! After savoring few spoonful of da Coconut Milk Rice plainly (yeaps without da sambal), my mind went blank. Da tastes oh so good, so aromatic! Can you imagine that da Rice itself is already so tasteful what about having it with Sambal and other condiments? Boy oh boy, it was delicious! Da Sambal wasn't too sweet, wasn't too spicy, just at da right level for me and I love da fact that they actually cooked da Sambal with lotsa big Onions. Tasted da Sambal with Rice, I moved on to taste da Squid. Wow, very springy and fresh... I loved it! Darling's Ayam Goreng was good too as I believe that it was just fried not long ago since it was still hot when we had it and surprisingly da meat was not oily at all, very tender meat too!
I would say that our brunch didn't cost us much, about

RM 13

with 2 glasses of Iced Lemon Tea. I also find out that they do serve Roti Bakar too, RM 1.20 per set. Overall, I am satisfied with da Nasi Lemak here and if you have better recommendations, please do not hesitate to leave comments for me as I am currently just so into Nasi Lemak, such an addiction! Lol...
Restoran Nasi Lemak Cikgu
No. 14, Jalan SS5B/2
Kelana Jaya
47301
Petaling Jaya
Selangor Darul Ehsan
Other reviews:-