Yippee, I see sunlight today, feel so happy! I seriously wanna go under da sun, very soon.... most probably after I finish this review :) Talk about eateries at

Sunway Pyramid

, I think I can count on how many of them I have actually tried before. Perhaps only 1 or 2 restaurants as I hardly hang around here since I left College but not until recently when darling and I almost frequent this shopping mall like once a week. I remember I used to come here so often during my college days where my buddies and I would just hang around during our break time, mostly for movies, for a cuppa and not to forget, shopping too. Eight years has passed and there's a tremendous change, da most obvious one is da newly opened Sunway Pyramid II which links to da old mall so shoppers could just go round and round da whole shopping mall ;)
Darling and I finished watching a movie at TGV (omg, da cinema... sigh, don't know why.. da seats just so uncomfortable, so small, no head rest and da ticket is more expensive than GSC, omg, it's really bad!) and it was already dinner time. Darling wanted to eat Korean food and I remember there's one small little Korean restaurant tucked in a corner, located right beside Famous Amous.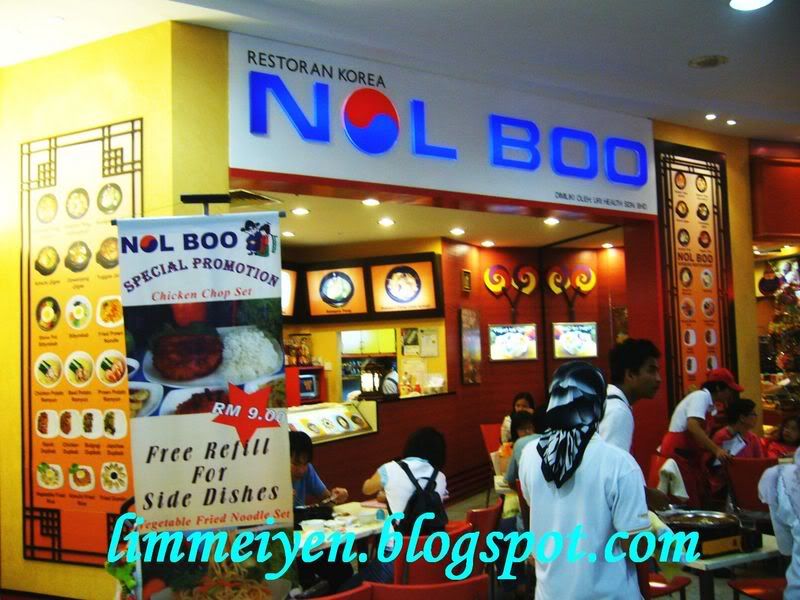 It's

Nol Boo Korean Restaurant

and yes, I know! Nol Boo has been operating long long time ago and we had been passing by since 8 years ago yet this's our first time trying da food here. It's quite limited seats over here so if you are really keen to have a meal here, you got to be patience.
We were first served with Appetizers and don't expect much from them, only 3 kinds that they serve....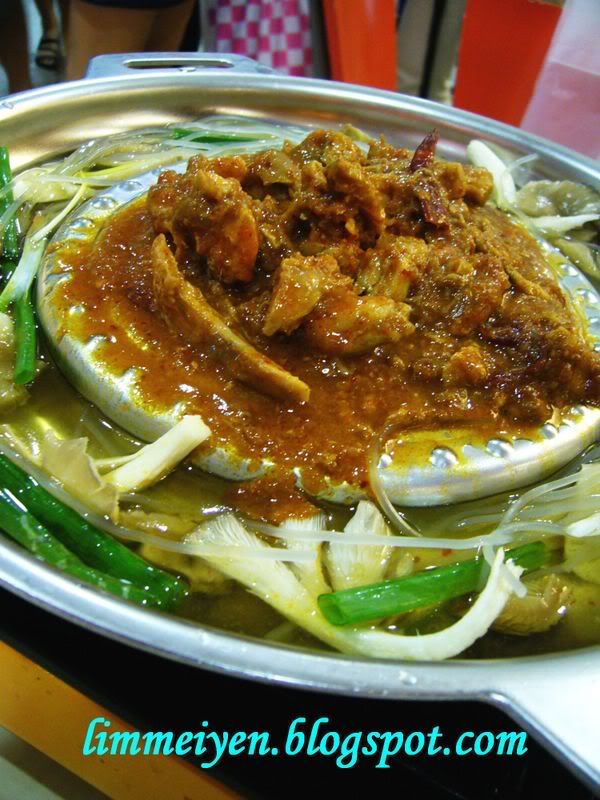 Darling had their

Korean Bbq

which I thought it's quite affordable, only

RM 20

and you can choose to have Beef or Chicken which is served with Vegetables, Crystal Noodle, Soup and a bowl of Rice. I find da Seasoned Chicken meat pretty flavourful, very well marinated and very tender too.
For myself, I had

Chicken Ramyun (Korean Noodle)

. Priced at

RM 12

per bowl, people would usually order da spicy version cause it's quite famous back in Korea but since they do offer da non-spicy version, I thought it was a good try. No, it's not da normal Maggie Mee or Nissin Noodle texture, their Korean Noodle tastes so much better but I dare not to drink da soup cause it's yellowish, don't know why.
All in all, we only paid

RM 35

for our dinner. I mean having Korean food is never cheap so we find it quite a good deal here but one thing that I don't quite like about this place is that when we were having our dinner there, onlookers kept looking at what we ate and they just stood there, right in front our table. I know, they were curious but it really made me feeling uncomfortable having people to watch me eating. Da next time I come over here, I would tell da staff I wanna sit inside and not outside ;)