Hello everyone, I hope you people had a good weekend. It has been raining now and then, gloomy sky, windy weather, just don't really like it cause it makes me lazy and sick. Don't know why, I have been really weak recently and just 2 days ago, I've caught a cold and having mild fever, again! Well, just hope that am going to recover really soon as work is piling up and to all of you out there, please take care your health since it's rainy season now, don't catch cold yah!
Last Wednesday, I met up with my buddies for dinner. It was really a sweet meet up cause is been months since we last seen each other. We decided to have dinner at

Italiannies, The Curve

and our initial plan was to catch up each other at 8pm but we were all late due to work commitments and also because of da massive jam, it was really teribble. I thought that I would be da one really late but surprisingly no, fiance and I reached first, next came, Ivy and Eddie (da newly wed couple) and few minutes later, Lye Mun and her beloved darling, Yew Choong arrived.
Cam whoring begun...
Hungry, hungry.. time for dinner!!!!!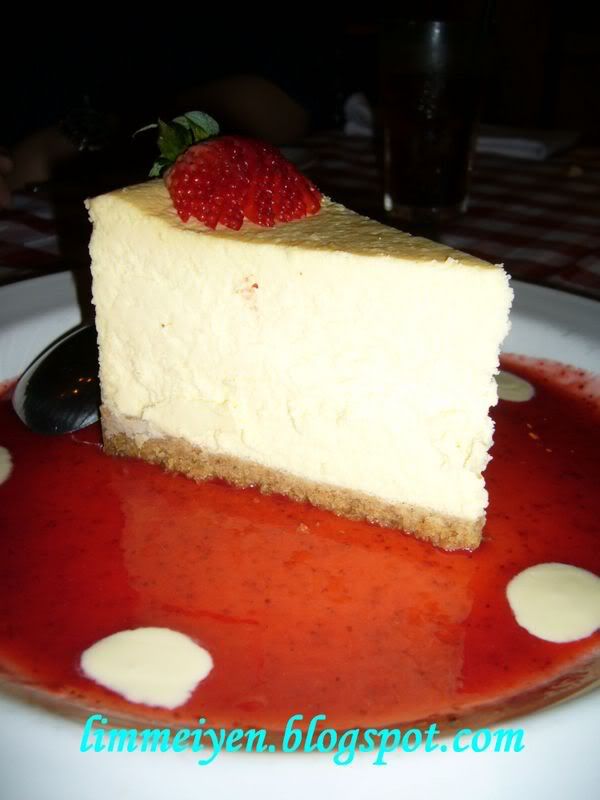 Actually, we were all feeling very full but because of me (I just need to end my dinner with some desserts), everyone just had to go along with me to share this gigantic

Strawberry Cheesecake

:D
Not only that, we also had da gigantic

Tiramisu

too!
Burpppp.... really full! Da Pastas were all good, served with lotsa ingredients, fresh Seafood and very big portion too! As for da Pizza, find da dough too thick and not really crusty so I didn't quite like it. Desserts were all delicious and most of all with good companions! :) Da bill came to a whopping

RM 250++

for da above food & drinks, quite worthy I would say cause each person paid about RM 40++ only ;)
After dinner, cam whoring session again but not inside Italiannies though ;)

It was one wonderful night for me cause I don't get to see them too often. I know that three of us cherish our friendship very much. Firstly, Lye Mun was really sick that night when we supposed to meet up and had to beat da traffic jam for like 1 hour plus to reach. Secondly, I thought I would be really late or maybe unable to join them cause there was one emergency work at da very last minute and thirdly, Ivy's hubby was stucked in a meeting too. However busy we were, we still wanted so much to meet each other and despite how late it was, we still managed to gather and had a good dinner. To Lye Mun, thanks a lot for da precious gift you'd given me, I appreciate it a lot and have been using it now, very informative.. love it so much! To Ivy, thanks for da voucher... so kind of you! :D Lastly, thanks to our partners accompanied us throughout this memorable night, muaks! :D